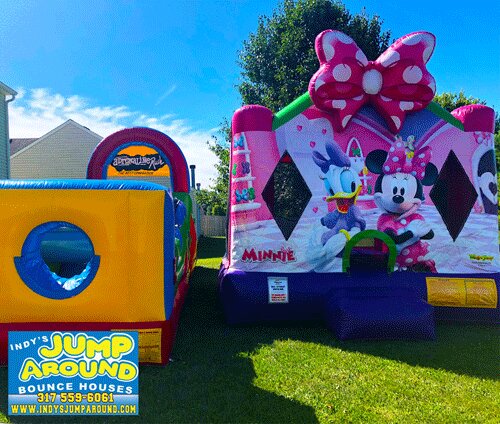 Obstacle Course & Bounce House Package
OUR MOST POPULAR PACKAGE
Included Bounce Houses (Choose 2)
Your guest will have Hours of fun with this package. You get the 35 foot Obstacle course and one standard themed bounce house. Let Indy's Jump Around help you make memories for your guest at your next party or event. This package is great for all ages and events!
We Deliver - Set Up - Pick Up
This package requires two seperate power circuits. Typically we can plug one Bounce house into the outdoor outlet and the second bounce house in either the garage or indoors. Please keep in mind when booking, each bounce house must be within 100ft of a power source
Great for Backyard parties - School Events - Church Events - Festivals - Concerts - and more!
Features: 1 osbtacle course & 1 Bounce House with slide of your choice
Recommended for ages 5 and up
Always Clean Always on Time
Cancel anytime up until 8AM the morning of your event due to poor weather and receive a raincheck good for 1 year.
Some travel rates may apply
We Provide you with everything you Need!
Great for all Ages! You get the 35 foot Obstacle Course and 1 Standard Themed Bounce House. Great for Small Events or Backyard Parties. Book Online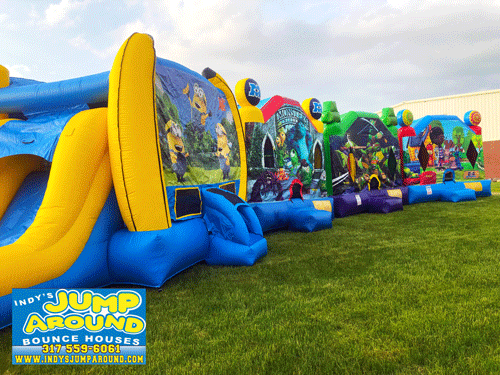 Bounce House Rental Safety
A number one concern for parents is their children's safety. That's why so many parents turn to rent bounce houses for all their party needs. All surfaces are vinyl walls that are filled with air. Nobody has to worry about their child walking away with bumps or bruises as long as they're playing in a bounce house.
Bounce House Rentals Indianapolis and Greenwood